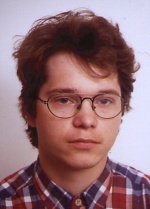 Arne Henrik Juul
also known as
arnej

---
History
Born: 7. March 1969 in Östersund, Sweden.

Education: 9 years Basic School at Gjøvik barne- og ungdomsskole. 3 years Continuating School in Sciences at Tranberg Videregående skole. 5 years University studies in Physics and Industrial Mathematics at Norges Tekniske Høgskole, a part of the University of Trondheim, making me a "Sivilingeniør" (=~ Master's degree).

Planned Education: None.

Work: I now work at Yahoo! Technologies Norway as all-around fixer of problems. (We used to be part of Fast Search & Transfer but Overture bought the entire Web Search division for lots and lots of money, then Yahoo! bought Overture for even bigger lots of money.)

Some years ago, I was the system administrator at the department of mathematical sciences (math.ntnu.no, earlier imf.unit.no).

Where am I?

You can get the map in 1019x1024, 895x900 or 764x768 resolutions. Look for the little white cross to find Trondheim, Norway. Of course, Scandinavia isn't quite that big in reality :-)
Projects:
During my study years, chief developer of Store, a system for third party software distribution and maintenance.
Learning enough Unix to become a real wizard. Mainly I'm working with NetBSD in this regard.
I have been heavily involved in the creation and continuation of our local CompSci club, ProgramVareVerkstedet. But now I'm not that much present anymore, sadly.
Hobbies:
Computers, unix, unix, and computers. See Projects.
Reading books. Although primarily a science fiction reader I also read and enjoy many other types of literature. Some recommendations:

Terry Pratchett's Feet of Clay,
Harold Bloom's The Western Canon,
John Le Carré's Smiley versus Karla trilogy,
Stephen King's It,
Connie Hirsch's Kid Dynamo,
Lois McMaster Bujold's Barrayar, (one of my absolute-favourite books),
Joe Haldeman's The Forever War,
Vernor Vinge's A Fire Upon the Deep,
and Connie Willis' To say nothing of the dog (I've just read it again, highly recommended!)

You can probably look at this map I've scanned and guess another author favourite of mine.
Comics. I read most kind of comics, too (except for Mario Bros), but I prefer these:

Neil Gaiman's Sandman and Death series,
Anything by Don Rosa (mostly Donald Duck and Uncle Scrooge stories),
Anything by Carl Barks (also mostly Uncle Scrooge stories),
Allan Moore's Swamp Thing.
Frank Miller's Batman
Bill Amend's FoxTrot

Music: I'm a horn player. That's the French horn (aka Waldhorn), mind you, not any other! I currently play the horn in "Sør-Trøndelag Orkesterforening", an amateur symphony orchestra that was formed by joining the two local "town" orchestra. While we're open to musicians from the entire region it's mostly people from the city or suburbs that play, since we have rehearsels every wednesday in the centre of Trondheim.

I used to play in "Nidarvoll Ungdomskorps", a local "young" amateur band, but that now is in conflict with the orchestra, sadly.

Last year I joined another local band instead; Musikkforeningen Nidarholm first only for a tour to Valencia, but now I'm plaing there regularly. They have the most ambitious program I've played to date, with lots of fun pieces to play!

I spend at lot of time listening to music, too. Among the classical composers I prefer the Russians: Rimsky-Korsakov, Moussorgsky, Prokofief, Shostakovich, Stravinsky, Tchaikovsky, Khatchaturian. I also like Mahler, Debussy, some Beethoven, Händel, Britten, and in fact most other classical music (but not quite everything... I think Mozart is sometimes boring).

Among more modern music I like Pink Floyd, Beatles (esp. the white album), Jean-Michel Jarre, Bjelleklang (a Norwegian vocal group), Kate Bush, Tina Turner, björk, Leonard Cohen, Frank Zappa, Roger Waters, Enya, Sade, Depeche Mode, Yello, and many others.

I've made a quite pointless list of CDs. If you know me real well, I might even consider lending you some of them :-)

Game Playing: Once in a while I play some computer games, but haven't played any for at least half a year now. I also play board games semi-regularly, my favourites are "Age of Renaissance" and 1870.
Email address: I try to keep to the email address arnej@pvv.ntnu.no for personal mail; but I get some hundred spam mails per day there so I'm not always very responsive, I'm afraid. (You may also see email from my "work" address at Overture of course).
Snailmail address:

   Arne H. Juul
   Lillebergv. 14 A
   N-7052 Trondheim
   Norway

---
arnej@pvv.ntnu.no Last modified: Sat Feb 24 17:03:08 CET 2007