.. eller rettere sagt: hode, hånd og fot.
Et dypdykk i restegarnbeholdningen har resultert i flere små, men langvarige prosjekter som kan varme både små og store på føtter, hender og hodet og 9 restenøster mindre i kurva.
Barnelue med doble flatklemte baller på toppen og diagonal kant nederst.

Hodebånd til ung/voksen.

Votter i Oslo-sting: et par helt enkle og luftige til å ha inni vindvotter, et par tett bundne med diagonalt mønster (se detaljerte bilder nedenfor) og et par fingerhansker.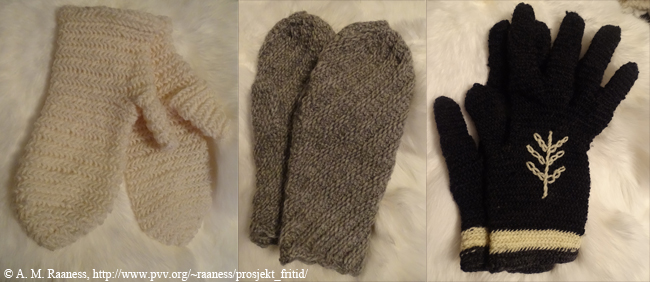 Sokker til små og store:
| | |
| --- | --- |
| Finullgarn med sklistopper. Str. 25? | Resteullgarn. Str. 27? |
| Finullgarn | Kampanjegarn |
Detaljer på de grå vottene (i Peer Gynt restegarn):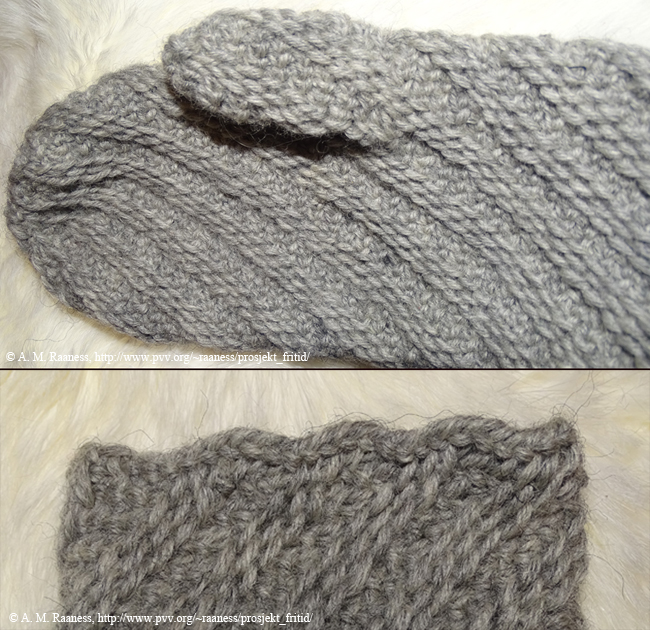 Edit 6.1.2016
Og 2,5 garnnøster senere…
| | |
| --- | --- |
| Babyull. Str. 29-30 vid | Babyull. Str. 29-30 smal |
| Og de samme blå modifisert i juli 2016. | Babyull |
English summary
I've made some more things. A cap for a kid, some mittens and a few more socks (both for kids and myself) – now we just need some colder weather. Mostly Oslo stitch, and for all these projects – 9 left-over balls of yarn were used.