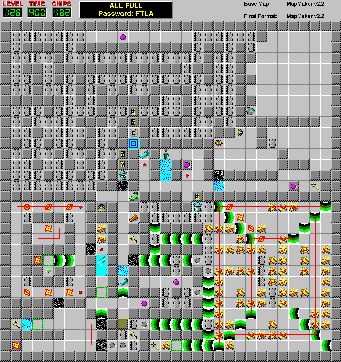 (click to enlarge)
Download file: mapmaker.zip (112K)
Current version: v2.2
Platform: DOS (also runs in all versions of Windows)
Special requirements: Uses CHIPS.DAT from the game
Language: English
Copyright: 1998 Megastyle Productions
Description:

This is the infamous MapMaker developed for the Windows version of Chip's Challenge. This program reads the CHIPS.DAT file containing all the level data, and creates a base map (in the .bmp format) of any selected level. Optionally, all secrets will be revealed on the base map. Secrets include invisible walls, fake walls and things hidden under blocks. Enemy routes (for pink balls and fireballs) are also drawn. These base maps were used by the legendary msn Charter Chipsters to draw their own solution maps.

Features:

* Possible to create base maps of any Chip's Challenge level, including levels made using a level editor
* Two modes, create base map or prepare solution map, with "seconds left" entry filled in

Plans:

A MapMaker 2 for Chip's Challenge 2 won't happen, because the game has a save-to-bmp function!