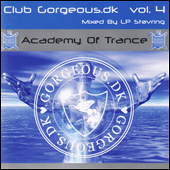 LP Støvring: Academy Of Trance - Club Gorgeous.dk vol. 4
---
LABEL: Big Star Records
CAT NR: BIG CD 100
YEAR: 2001
MIXED BY: LP Støvring
COUNTRY OF ORIGIN: Denmark
---
| | | |
| --- | --- | --- |
| 01 | Little Jam: Wings Of The Eagle (Future Breeze Remix) | 05:47 |
| 02 | Schiller: Das Glockenspiel (DJ Tiësto Remix) | 04:43 |
| 03 | Untamed: Innocent Child (DJ Tandu's "Freelancer" Remix) | 04:03 |
| 04 | Mauro Picotto: Like This Like That (Megavoices Claxixx Mix) | 04:36 |
| 05 | Matanka: Lost In A Dream (Marco Zaffarano Remix) | 03:45 |
| 06 | Armin van Buuren pres. Perpetuous Dreamer: The Sound Of Goodbye (Above & Beyond Remix) | 05:59 |
| 07 | Sound De-Zign: Happiness (Coast 2 Coast Remix) | 04:16 |
| 08 | Push: Strange World (2000 Remake) | 03:54 |
| 09 | Blaze feat. Palmer Brown: My Beat (AMbassador Extended Remix) | 02:52 |
| 10 | Dimensions: La Serrenada | 03:28 |
| 11 | Coast 2 Coast feat. Discovery: Home (5 AM Mix) | 04:22 |
| 12 | Joker Jam: Innocence (Planisphere Mix) | 03:40 |
| 13 | System F: Soul On Soul (Kay Cee Remix) | 04:23 |
| 14 | DJ Tiësto: Flight 643 | 03:03 |
| 15 | Delerium: Innocente (Lost Witness Remix) | 04:39 |
| 16 | Gemmano: Analog Rain (Rubicon Mix) | 05:18 |
| 17 | Kay Cee: Unsolved Mysteries (Electrochemie LK Mix) | 03:07 |
| 18 | Orion: See Me Here (Darren Tate Mix) | 05:28 |
---
(P) & (C) 2001 Big Star Records.
Marketed and manufactured by Big Star Records and Academy Of Trance, powered by Iceberg Records.
Scandinavian sales and distribution through Bonnier Music Group.
Compiled by LP Støvring and Oliver Zähringer.
Compilation production by TommyBoy, Michael Splint, LP Støvring and Oliver Zähringer.
Mixed at The Trust Resort.
Engineered by Morten Trøst and Michael Parsberg.
Cover design by TommyBoy at Netpointers, Denmark.
3D by Dennis Schnell.

---

Sleeve notes about LP Støvring:
The man with the ultimate DJ initials - LP - started doing dance radio in his hometown Randers in the late eighties. During the nineties he started the dance label Happy One Records which saw releases from DJ Tonka, S-Connection to Danish act ETA's Casual Sub. He finally moved to Copenhagen in 1998 where he soon joined radio station The Voice with a time slot on Saturdays. From January 2001 LP and co-host Morten Trøst went national with their programme "Festudvalget", which is broadcasted on Denmark's Radio P3 - a show that runs over 4 hours every Friday night, displaying the newest in house and trance.
A little known fact is that LP is one of the founders of Gorgeous.dk and that it was he who came up with the name for the club.
You can always be sure to catch LP twice a month at Club Gorgeous, where you will hear some of his brand new favourites and some carefully selected classic tracks.
Sleeve notes about Club Gorgeous:
One year and 4 months after the Club Gorgeous opening night (February 16th 2000), the club is still enjoying big success with massive support every Wednesday night - now with clubbers from all over Scandinavia joining the party. The danish resident DJ's Michael Splint, CK Feltman, Michael Parsberg, LP Støvring and international DJ's such as Johan Gielen, DJ Tandu, Mauro Picotto, Ferry Corsten, Kay Cee, DJ Tiësto, Graham Gold, John Johnson, Des Mitchell, Paul Mendez, Marc et Claude (to mention a few) have been presenting the latest in European dance music over the past 16 months. Club Gorgeous will continue to bring you the hottest DJ's from all over the world and many other interesting DJ names and events are already lined up for the future. Check out the Club Gorgeous web-site for up-date.
The Danish scene has experienced a significant growth during the past couple of years, and Club Gorgeous has had the pleasure to present world premiere performances by artists such as Safri Duo and Örtz. Hopefully more will follow in the future.
It has been a great first 16 months, and the success of Club Gorgeous has spread throughout Denmark, and other venues for dance music are starting to experience success as well. These are not regarded as competitors, but rather as a sign that the club culture in Denmark is growing. Another proof that dance music is more alive than ever before was in March 2001 when the first Danish Dance Awards took place with a fabulous line up and great performances by all the artists. At the Danish Dance Awards Club Gorgeous got an official recognition by winning the award for best compilation Club Gorgeous vol. 1 mixed by DJ Johan Gielen. Furthermore Club Gorgeous was awarded as best club in 2000 by Danish DJ's (Danish DeeJay Organisation Annual Awards).
Thanks for the support,
Team Gorgeous.
---