Sexually explicit graphic novels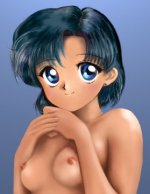 The link in the frame below will take you to some of my favorite hentai and erotic art.
To see some of my favorite non-erotic graphic art, just follow the other links on my graphic novels page.
---
Now let me show you some erotic artwork!

But before we start, I have a plea:


Please don't write to me to tell me how well I draw or to ask me to send you more pictures of _________ (fill in the name of your favorite sexy toon here)!
I did not create any of the art on these pages myself, and I am not interested in exchanging erotic art with anyone by e-mail. OK?

You may of course write to me to tell me what you think of my web pages, or to point out errors or obsolete links on them. You may even tell me which of the artists you like or dislike, as long as you don't expect to see any immediate changes on my pages because of your comments.

Thank you.
VerdLanco




Erotic comics can be funny, too! If you take a well-known character from a different comic and put him or her in an erotic setting, the result can be quite amusing! You can find links to a bunch of pictures like that at the ToonTop!

This brings us to another genre of comics which I like: Funny comics!



---
---

horny art lovers
have visited this page so far.
You may censure me at <Ulf.Lunde@kvatro.no>
First created: Fri May 13 1994
Last modified: Thu Nov 12 19:53:52 MET 1998
Accessed by you: