Not Exxon, but Peninsula Valdez
---
I suffered badly from my lack of foresight on the long ride from Buenos Aires to Puerto Madryn. I had not brought any books to South America except for some Spanish lessons, and after having admired the Pampas rolling by without any noticeable changes in the landscape for a few hours, I started to get a little bit bored. The ride itself was excellent, pretty much like flying long-distance; The seats were wide, reclining ones, and there was a stewardess walking up and down the aisle serving horrible food.

For each little town we passed, the bus made a stop long enough to get out and stretch our legs and have a quick meal. On the 1.400km ride from Buenos Aires we had in total 9 stops, which maybe suggests that the area is not very densely populated.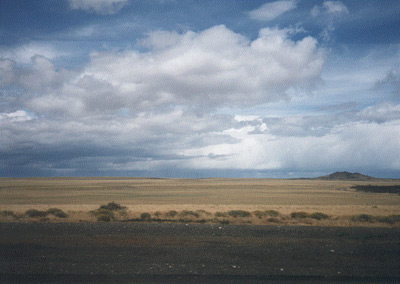 Finally, after 20 hours of bus life, I arrived safely in Puerto Madryn, most probably the southernmost serious beach resort in the world sharing latitudes with parts of Tasmania, right at the entrance to Patagonia, which goes on from here down until the end of the world. I don't know how it happened, but in spite of a rather harsh climate, it is extremely windy and not particularly warm here, someone at some stage decided that this was an excellent location for building numerous beach hotels, windsurfing shops and icecream parlours. Granted, there IS some sand here, technically making it a beach, but coming directly from a boiling hot Montevideo, just the thought of walking around in summer clothing here seemed a pretty bizarre concept to me. Nevertheless, tourists are flocking to this place from all over southern Argentina and Chile. And they love it!
Being shoveled out of the bus, I immediately headed for the local YHA-HI hostel, a good 15 minutes walk from the bus station. It is an excellent one at US$10 pr night, and even sports its own guardian birds with lots of staying power, following you around whenever you take a walk through the small but nice garden on the premises. I was guarded by these vicious little creatures together with a Belgian backpacker, Daniel. We arrived on the same bus and I kept running into this guy throughout Patagonia. We quickly decided that we needed to get away from the birds, and booked ourselves onto a trip to the absolute gem of the area; Peninsula Valdez.
Peninsula Valdez is a very special place. I experienced a long and fulfilling day there, in which we covered 470km by car on gravel roads, but still had enough time to explore some of the more interesting parts of the peninsula on foot. Although it looks very arid and lifeless, on closer inspection there is life everywhere, and lots of it. I had my first llama experience here, when a herd of guanacos suddenly blocked the road in front of our car, silently protesting against human presence on their semi-island, before they gracefully ran away. I also went snorkeling in the coldest ocean I have ever entered voluntarily (10-12 degrees Celcius), and swam around in the most incredibly clear water I have ever seen, with sea lions and elephant seals farting, grunting and pissing each other down just nearby. Absolutely glorious. It was here I saw penguins in the wild for the first time in my life. It was here I decided I definitely would try to get to Antarctica to see more of this wildlife. Absolutely glorious, don't miss it if you ever get anywhere near this area.
A bonus feature of the Peninsula Valdez can be had if you get here in February or March, when the killer whales, the orcas, are around. Punta Norte was the first site where scientists observed these predators hunting sea lion babies by the fairly intelligent method of waiting for high tide and rush onto the beach (risking getting stuck there), grabbing all available, slow-moving snacks they can in the process. Supposedly an impressive sight. Alas, I was there too early in the season to see it.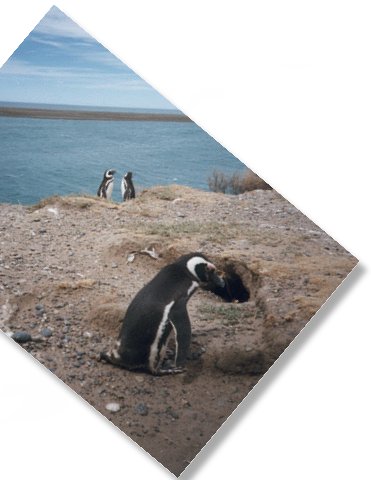 In spite of the nice sights I had to keep moving. So was Daniel, except he wanted to try his luck hitchhiking. I was more in the mood for a bus experience, not yet quite mastering Spanish very well, and we agreed on a competition. We were both heading south, for Tierra del Fuego, Fireland, and made a race out of it. Hence we parted at a gas station, Daniel starting smiling optimistically at truck drivers while I headed for the bus station, where I found a bus for Trelew.
Trelew and its neighbour, Gaiman, are supposed to be the Welsh part of Argentina, but apart from there being Welsh cookies on the menu in the local cafes, it is all assimilated into the soup called Argentinian culture. There's the suicidal traffic, the Plaza de Armas with a San Martin statue, the posters of the Falkland Islands and Argentinian flags and there's the rural siesta. Trelew had the most massive siesta I encountered on the whole trip. I barely managed to finish a visit to the excellent Museo Paleontologico before they closed down the entire city for a full four hours. Now, while in other places in the world, where people go home and eat and sleep in their siestas because it is too hot to work anyway, here they just put on warm jackets and get in their cars and drive as some kind of zombies through the streets of the city, looking for tourists they can run over violently. Most of the people living in Patagonia are slightly mad, and the government appreciates them living a good distance from Buenos Aires so much that they actually only have to pay about half price for the fuel compared to what they pay further north. My guess is that this depends on the Patagonians meeting a certain quota of car killings every year, making room for more lunatics the government wants to export to this region as they are diagnosed.
Anyway, I survived by staying put on a bench in the park, writing in my diary and watching how children caught pigeons and tortured them. I am only guessing here, but there MAY have been quite a few Germans coming to this area straight from the various concentration camps in Europe some fifty years ago. Mix the children of those with the madmen moved here by the Argentinian government and guess what you get.
As usual in areas with a harsh climate and a small population, Patagonia is full of dinosaur remains. I don't know why it is that way, but it certainly is, and the local specialties here are dino eggs and fossilized giant tree trunks. Although the museum is quite interesting, the real thing can be experienced in the Monumento Natural Bosques Petrificados some 6-700 kilometers to the southwest of Trelew. Unless you possess a car, however, it's really hard to get there.
On my map there were barely any places marked between Trelew and Tierra del Fuego, so I bought a ticket for Rio Gallegos, which is just about as far to the south you can get in mainland Argentina. This meant another 16 hours in a bus, and I did not particularly look forward to it. My mood turned a bit brighter when suddenly my Belgian friend, Daniel appeared in a dust cloud in the bus terminal where I waited for my departure. It had been blowing half a hurricane throughout the day, and he was all but covered in sand from top to toe. Every time he moved, a new Sahara formed at his feet. He had not succeeded in hitching a ride with anyone, although he had stood by a gas station just outside Puerto Madryn for the whole day. In the end he had given up and got onto a bus to try to catch up with me to tell me I was winning the race. His theory was that he looked too much like an Israeli, who for some reason are said to be not very popular with Argentinians, and that his 2 meters tall appearance might seem a bit scary to tiny Argentinians, but I can easily imagine that the main reason may have been that a majority of Argentinians prefer their cars fairly nice and clean on the inside, never mind the outside being all muddy and dented. I suggested this, but he would have none of that, this was pure racism.
Luckily he was allowed to buy a ticket for Rio Gallegos, and with night falling, we were on our way to the far south. The ticket for the long ride was US$50, and included in this we did get to watch Armageddon on the bus video screens while waiting for new engine parts to arrive from a distant source. The parts arrived, the bus started making funny noises, they put on a Titanic tape, and some ten hours later we arrived in Rio Gallegos.
Rio Gallegos is one of those places you come to and instantly realize you are not going to spend any time in whatsoever if it can be helped. I wanted to go to Ushuaia, but there were no buses heading that way until Wednesday, and it was fairly unclear exactly which Wednesday they were talking about. There seemed to be very little public transport going on in the area, so we went to the airport to find out if we could get on a plane southwards, but when we got there, nobody could tell us if there would be available seats on a plane heading for Ushuaia that same afternoon. Daniel decided to cling to this chance, while I went back to the town. I put out my thumb, and since I am not two meters tall and I do not look neither Israeli nor sandy, car number two stopped and gave me a ride.
A little while later I was back at the bus terminal and secured myself a seat on the only bus going south in the immediate future. It was for Punta Arenas in Chile, so I had to start eating apples from my backpack right away. When I had finished the apples I was still hungry, so I went into the cafe at the terminal and had an awful hamburger-like meal. While the food was nothing to remember, they had an excellent poster on the wall:
INFORMATION FOR THE TOURISTS
Is not allowed eat in this place
Any food or drinks
That you are not
Gonna buy here!
Thanks for your coo-
peration
- The Gerency
I was a bit worried after the first two lines, but in the end everything made sense. The food was ridiculously expensive, so I paid and happily left.
---