Konsertantrekket skulle være pent og lyst, dvs hvit og lys beige på korkonserten. Så fremfor å storme til butikkene og kjøpe noe man egentlig ikke vil ha eller ikke liker, er det ikke like greit å se hva man har i skapet? I mitt skap finnes ikke mange lyse plagg (spesielt ikke hvitt eller lys beige), men derimot en rull med ufarget råsilke.
Til den første konserten ble det et nytt skjørt, mens til den andre ble det en matchende topp til. Bruken viste riktignok at toppen var noe feilkonstruert, så ny versjon følger senere.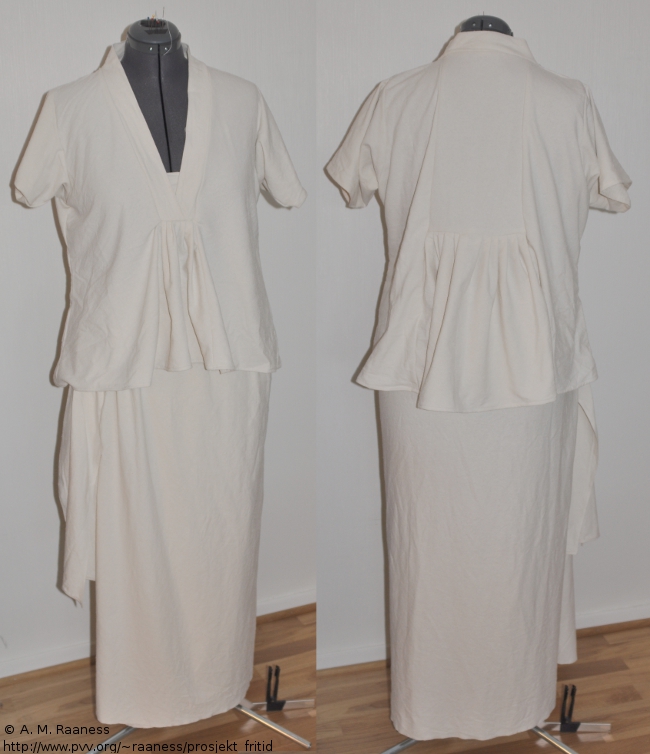 English summary:
A dress code required clothing of white or light beige color, but for some reasons there are very few garments of those colors in my closet. On the other hand I had a roll of silk noil in a suitable color, and voilá – a skirt and a top made from scratch. The top need to be adjusted (or remade) because of some strange misfitting shoulders, but otherwise it is good.

Edit: A new version was made in 2015. Still not happy with it, but the shoulders got a better fit with the new editions. We'll see what happens.